All Moshi portable batteries use lithium-ion or lithium polymer cells. Compared to traditional batteries, lithium batteries charge faster, last longer, and have a higher power density at a lighter weight.
Moshi portable batteries use the same technology as those used in electric cars. They are rigorously tested to ensure that after 800 charge cycles* they retain 80% battery retention. Most competitors only promise 80% battery retention after 300 cycles.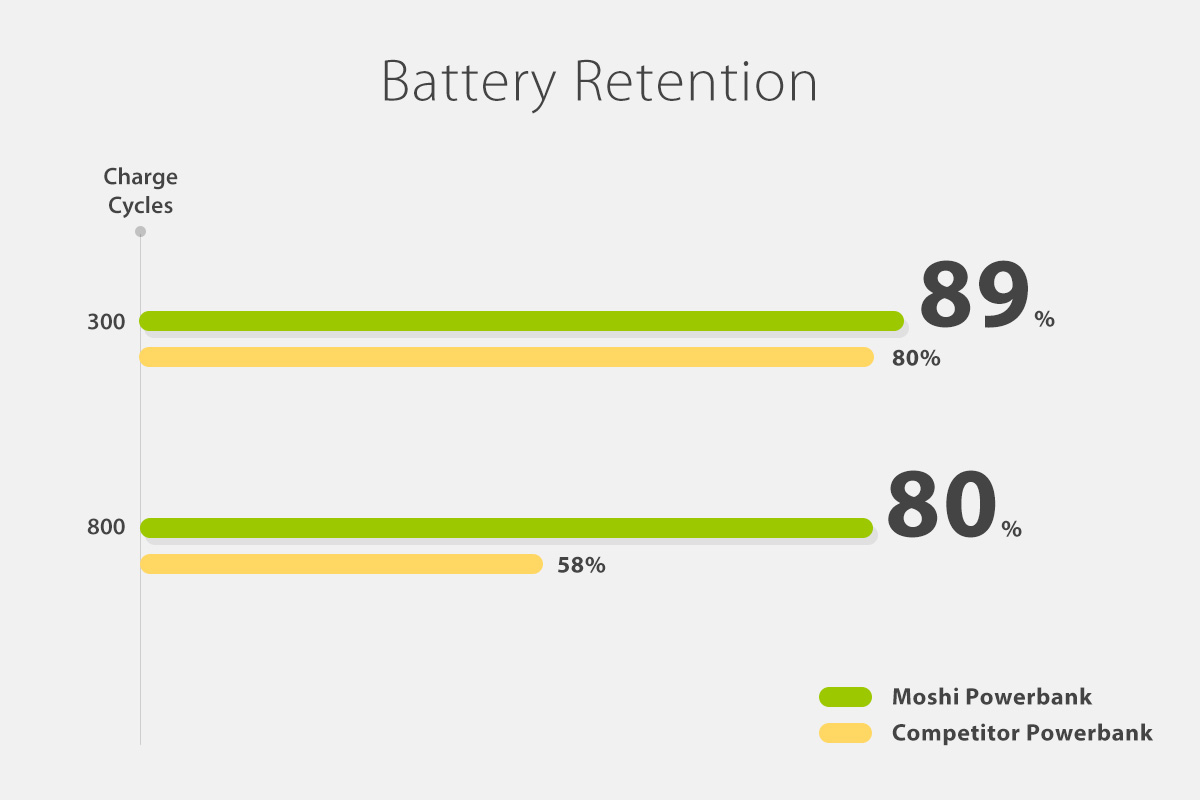 *A charge cycle is defined as the complete discharge of the battery followed by a complete recharge.
Follow the tips below to optimize the performance of your Moshi portable battery.
Keep batteries at room temperature
Avoid leaving your portable battery in strong direct light (such as in a car), near a fire, or a thermal vent. The optimum temperature for your battery is between 68ºF to 77ºF (20-25ºC).

Allow partial discharges
Advancements in battery technology have removed the "cyclic memory" effect, which means deep-discharge cycles are not required. (This effect is a remnant of nickel-cadmium (NiCad) battery technology and relates to a battery "remembering" how much energy was previously used. Lithium-based batteries have made this effect obsolete.)

Recharge your battery at least once every 6 months
To preserve the lifespan of your battery ensure that it is charged at least once every 6 months.

For extended storage discharge to 40%
When storing your battery for long periods of time discharge the battery to 40% then store it in a cool, dry place. Avoid storing fully-charged batteries.

Battery Retention Over Time