Finding the right product(s) for your device can be a bit confusing, especially as newer models come out. Follow our guide below to locate your iPad model.
Once you know your product's model, you can then check the 'Spec' section on the product page to verify if the product works on your device.
Identifying your iPad
Remove any case on your iPad and turn it over. Towards the bottom of the iPad, you will see 2 small lines of information. The last information on the first line will be the product's model number as seen in the photo below.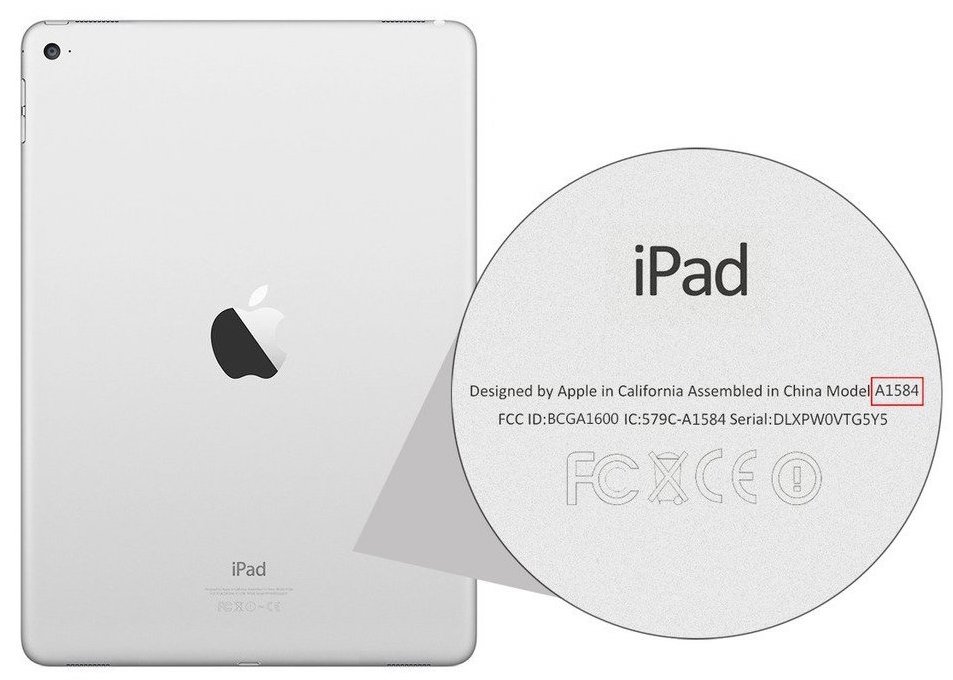 Use this model number to locate the type of iPad you have below:
Product Name

Model Number

Year Released

iPad (7th gen)

A2197,

A2200,

A2198

2019

iPad (6th gen)

A1893, A1954

2018

iPad (5th gen)

A1822, A1823

2017

iPad (4th gen)

A1458, A1459, A1460

2012

iPad Pro 12.9-inch (4th gen)

A2229, A2069, A2232,

A2233

2020

iPad Pro 12.9-inch (3rd gen)

A1876, A2014, A1895, A1983

2018

iPad Pro 12.9-inch (2nd gen)

A1670, A1671, A1821

2017

iPad Pro 12.9-inch (1st gen)

A1584, A1652

2015

iPad Pro (11-inch)(2nd gen)

A2228, A2068, A2230, A2231

2020

iPad Pro (11-inch)

A1980, A2013, A1934, A1979

2018

iPad Pro (10.5-inch)

A1701, A1709, A1852

2017

iPad Pro (9.7-inch)

A1673, A1674, A1675

2016

iPad Air (3rd gen)

A2152, A2123, A2153, A2154

2019

iPad Air 2

A1566, A1567

2014

iPad Air

A1474, A1475, A1476

2013-14

iPad mini (5th gen)

A2133, A2124, A2126, A2125

2019

iPad mini 4

A1538, A1550

2015

iPad mini 3

A1599, A1600

2014

iPad mini 2

A1489, A1490, A1491

2013-14

iPad mini

A1432, A1454, A1455

2012